How To Enjoy Indoor Camping All Year Round
One thing that stops people from heading out to camp is probably the fuss and hassle that is involved in the preparations, making sure you got all grounds covered. 
If you still want to be a camper, sans the hassle, try working that bringing the camp indoors. Indoor camping (yea, it's a thing) has got its perks - zero worries about the weather, food supply, bugs and mozzies etc. Plus, it's definitely fun to perk things up at home, fusing some camp elements with your home decor.
Here are some indoor camping tips that we have to make your indoor camping experience more than just an in-tents one.
Pitch A Tent
Pure and Simple Teepee, Wallfloors, $189
Striped Children Teepee Play Tent - Black And White, Domestic Objects, $255
... or a teepee. To fully enjoy the camper experience at home, you need to ditch your bed and sleep in a tent or teepee. What's awesome about indoor camping is that you can still grab your blanket and pillow into the teepee, making yourself comfortable while you catch up on your favourite TV series (Stranger Things, anyone?)
Make Your Own Campfire
Photo Credits: OctoberJune.com
Battery Powered Fairy Lights, Midnight Sparks, $32.10
One of the highlights of camping is definitely campfire. While it is highly discouraged to start an actual campfire at home, we do think flameless campfires will be perfect for your next indoor camping affair (check out that DIY). Alternatively, you can place some fairy lights in a glass jar, doubling up as a home decor piece and an indoor campfire. 
Prepare Some Smores Bites 
Photo Credits: ReneesKitchenAdventures
Photo Credits: Twelfth-Avenue
What's camping without smores? Don't worry about the massive set up, like how you would when you're camping outside. You can get canned fuel (like those that caterers use) and place it in a terra-pot with some stones lining the canned fuel. And now, you can make your own smores, or just roast your marshmallows! Or you can make you own marshmallow dip and enjoy it over a movie with your loved ones.
Movies For The Campers
GIF Credits: Rebloggy
GIF Credits: Tumblr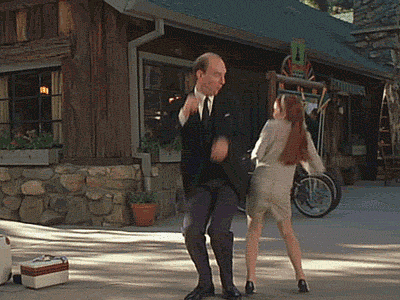 GIF Credits: Popsugar
Since you've brought camping indoors, choosing a movie will be spontaneous and easier with the presence of WIFI. Put yourself in the mood for camping with our recommendations above. Who knows, you might just want to head out for the real camping experience after watching these films!