Messy Beaucoup No More
Mess is inevitable for most of us, especially when we are always in a rush to head out and only coming back in time to fall asleep. No time to tidy up! 
We know Hari Raya is just two sleeps away, and some of you are not done with tidying up your home. So we've found some great tips that will help to cheat your way to a tidy room, or at least something that looks like it. Don't tell your mum about it tho. 
Jewellery & Accessories
Saturn Tray - Burgundy & Rosegold, Menuha, $112
Boho Yellow Lacquer Box, Kala Pata, $180
Organiser Full Set, Betterment, $49.90
For those of you who have a table full of accessories, and are always dreaming of the day that they will be organised and pleasant to look at, only to realise that it's hard to upkeep this view, these storage solutions can help you to keep everything in one place. If you are not keen on the neat look, you can chuck your bling-bling in these beautiful cases that will make great facades for the mess in there. 
Clothing & Bags
Washing Basket White, HK Living, from $79 
Stripes Laundry Bag, House Doctor, $35
Frank Zakka Box, Fanttique, $99
We are sure some of you probably will try all the clothes and bags you can find lying around in your room before finding the right outfit to head out. This results in a room with scattered clothes and bags that will hardly make their way back to the wardrobe (we are guilty of this!). If you've got no time to pack them, you can stow them away in laundry baskets or chests, and instantly make them out of sight. 
Too Much S**t To Organise
Photo Credits: Decorating Your Small Space 
Photo Credits: homedit.com
Amethyst Purple Mandala Tapestry - Twin Size, Jaipur Handloom, $38
If everything above still sounds like a chore for you, we have the ultimate solution - using curtains/textiles as room divider. This way, you can segregate a space for your mess. Hang the textile up, and hide all your junk behind it. Shame no more, at least not at first glance!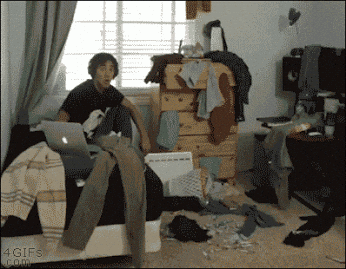 Good luck with "decluttering" :)
Terms & Conditions: 
- Not applicable with other on-going promotions.
- Not valid for sale items and furniture.
- Only applicable for purchases above $50
- Redeem while promotion ends.